Hanz Bronze is a writer and songwriter from Kansas City.
He's appeared on the "S/T" White Flight album as a percussionist and on the Suzannah Johannes EP as a lyricist.
Hanz is based in Ashland, Oregon.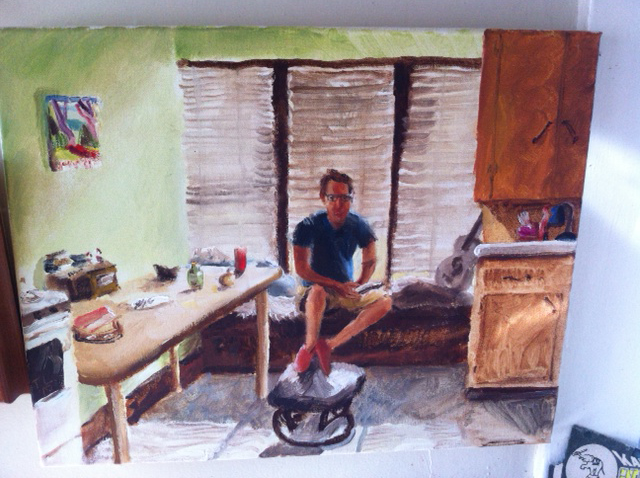 Introducing Hanz Bronze
I played in a middle school band with Hanz Bronze doing Fugazi and Beatles covers.
Hanz was the lead-singing-drummer with the alternately sweet and manic doo-wop voice.
Years later, when "Wowee Zowee" came out, it changed our worlds.
We would drive around in the summer in Kansas City with the windows down playing "Wowee Zowee" with the stereo maxed.
The golden-green of avenue canopies through polarized shades...
Trying to chat up girls in cars next to us at stoplights while "Rattled by the Rush" went berserk...
Hanz Bronze began writing songs in Lawrence while attending the University of Kansas.
He had many bands: the Manhattanizers, Halcyonics, the Electricities, each a complete shambles and yet each suffused with such beguiling and perfect pop, it would break your heart.
Hanz lived in a big bohemian house in Lawrence with Tracey Trance, the brothers from Fourth Of July, and Justin Roelofs (White Flight).
He played percussion on the White Flight record and wrote a handful of songs that Suzannah Johannes recorded for her EP.
Despite attempts, Hanz never recorded an official album until finding indie rock refuge in Bloomington, Indiana and meeting Marmoset's Dave Jablonski. Hanz's debut album was recorded in Dave's "Dave Cave" in Indianapolis and is a frenzied snapshot of the uniqueness of his songwriting: his infectious humor, tragic longing, and insistence that his songs remain as loose and alive in recordings as they sound on summer evenings, windows and beers open, jamming with the band.
Zach Hangauer / May 2015 / San Francisco
Painting of Hanz Bronze by Tracey Trance